Fashion
What is recycled cashmere?
Soft, silky, fluffy, and luxe. When we think about cashmere, these are the words that come to mind. People enthusiastically claim that cashmere is the best option for knitwear because of how it feels on your skin and for how it can thermoregulate your body temperature (yes, cashmere can be used year-round).
Cashmere is a $4 billion business
Unfortunately, though, when it comes to reflecting on what impact cashmere has on the planet, things become a little bit dicier. A 2015 report by Management Consulting firm Bain & Co, summarized by Business of Fashion, reports that cashmere products make up $4 billion of the $60 billion luxury market. This does mean that cashmere is a very sought-after product, but that justifies the concern around how cashmere factors in, in terms of sustainability: while cashmere is a natural fibre, with no issues regarding its afterlife, it is still an animal product. On one hand, the goats used to produce cashmere create a carbon footprint; on the other, the growing demands of cashmere (so of cashmere goats) has a negative impact on natural habitats, as their grazing damages the grasslands.
How Fashion Made Cashmere a Sustainability Issue
This all stems from the democratization of cashmere, which started in the late 1990s. The New Yorker reports that, between 1997 and 1998, the demand for cashmere sweaters almost doubled. "Once a highly expensive commodity, available to an exclusive few; today, affordable, casual cashmere products have permeated the high street," Business of Fashion reports. In several high-street brands, in fact, "knitwear starts at $79.90." And while silk, cotton, or leather, all raw materials favored by the fashion and luxury industry can be produced in modified farming systems, cashmere is more limited in that, as its production relies on a) natural grasslands b) limited geographies, mainly located between China and Mongolia.
Fashion brands have started to look at different solutions: the most successful ones include taking care of the whole process in the same factory and using recycled materials, which include off-cuts and gatherings from pre-owned cashmere items.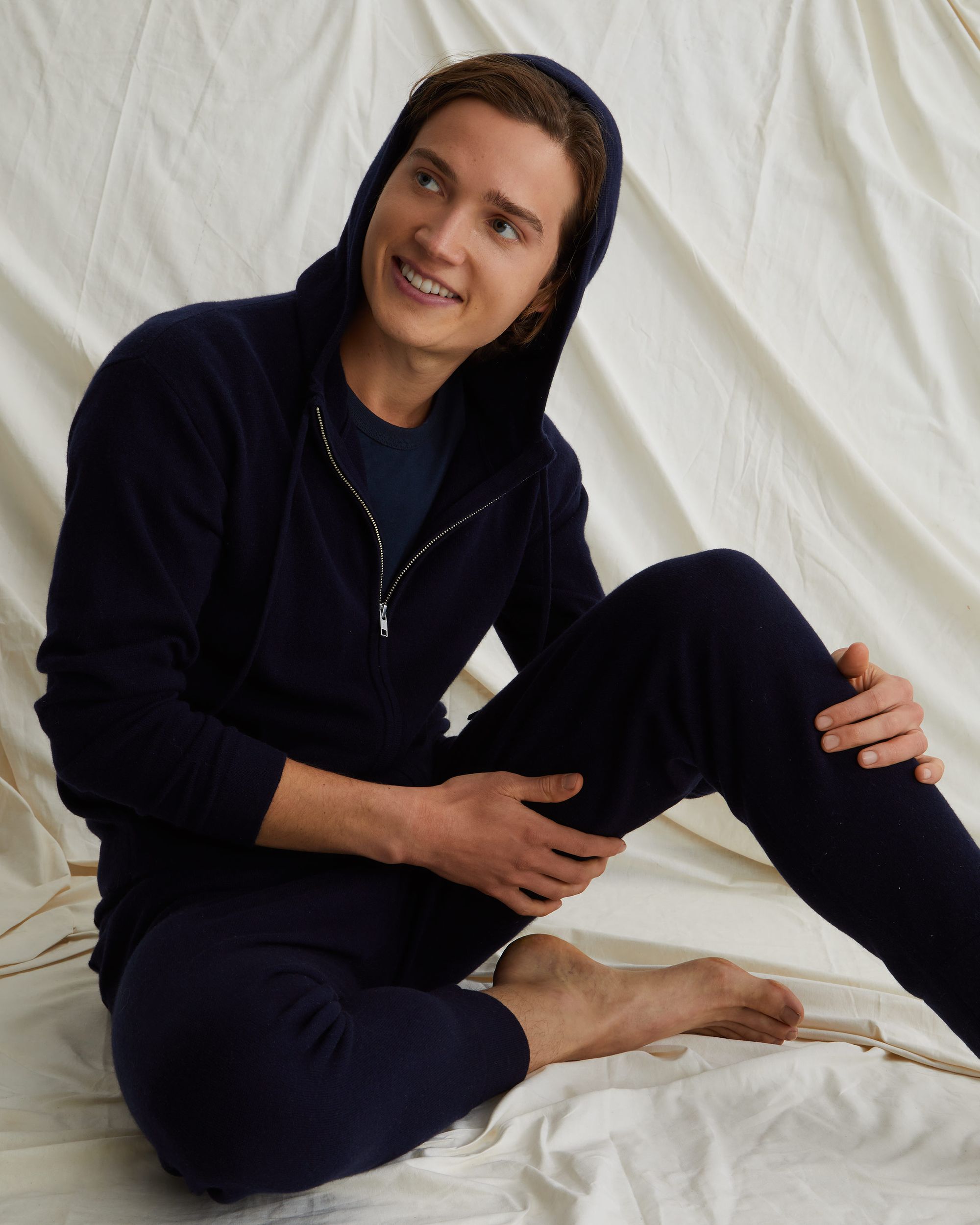 Where Italic Stands: Our New Sustainable Cashmere Collection
This is true of Italic too: in the past few years, Italic became established in the industry for their quality cashmere at affordable prices, and decided to tackle the increasing demand of cashmere goods by using recycled materials. It is our intention to reduce waste to preserve natural resources, by creating beautiful yarns from re-engineered cashmere, made of pre-consumer production cashmere. Our supplier produces 200 to 500 tons of high-grade natural recycled yarns annually, with production processes that use green energy and implement energy recycling. They also initiated a special breeding program in China, which consists of conscientiously caring for animal welfare, the protection of grazing pastures, and a commitment to traceability.
Relying on recycled yarns also allows us to expand our cashmere collection into more items beyond sweaters and scarves, which are classic cashmere bestsellers, the hallmarks of timeless elegance and luxury. Yet, it seemed wrong to limit our designs to those items, and recycled cashmere allows us to be both more experimental and cost-effective, and we found that 60% cashmere and 40% recycled cashmere is an optimal formula.
As we have been limited to our homes or immediate surroundings for almost a year now, we realized we wanted to design items that blended the luxe feeling of cashmere with the coziness usually associated with loungewear.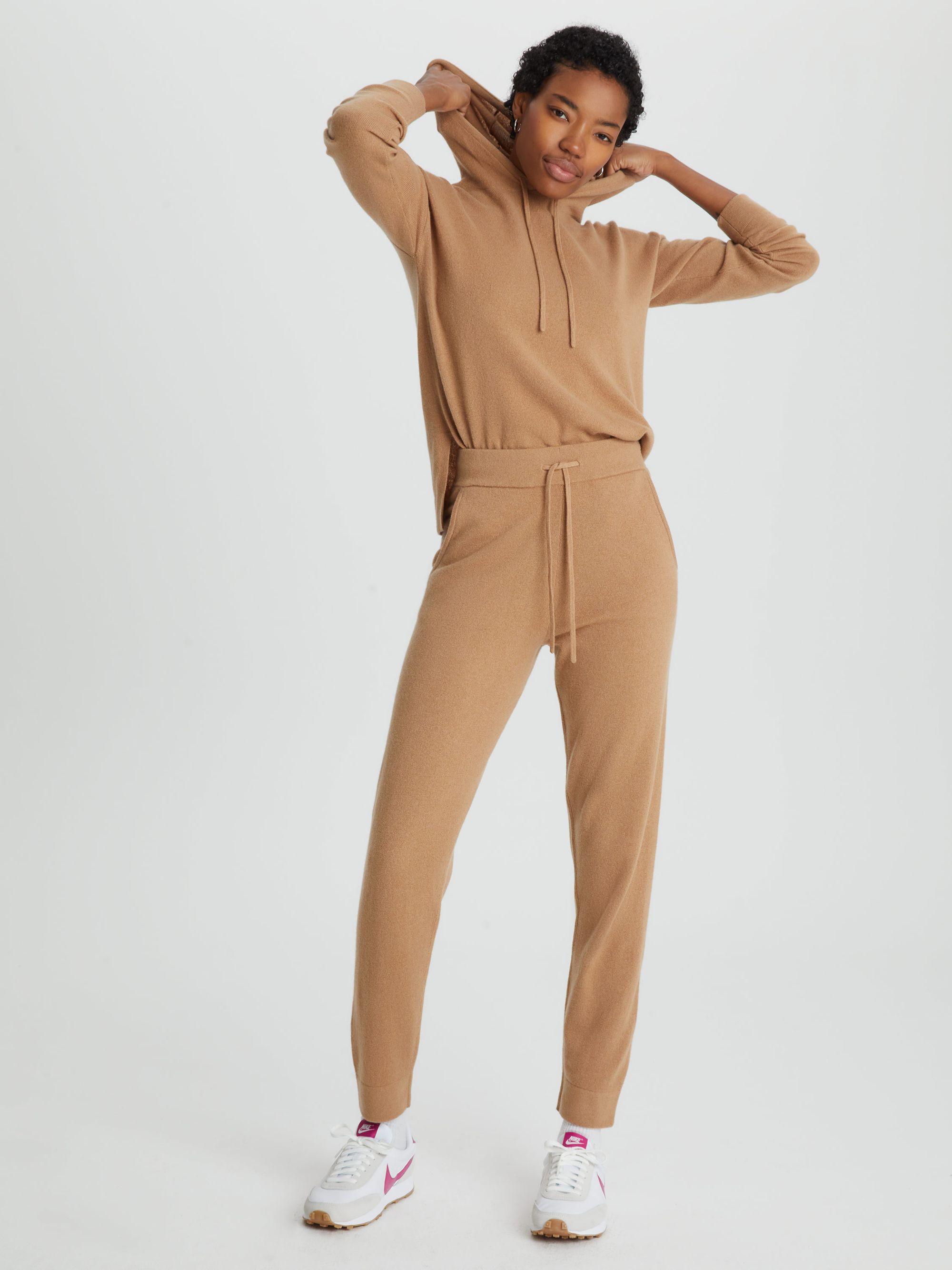 Recycled Cashmere: The Making of Hero Pieces for The New Normal.
As for tops, we wanted to go beyond crew-necks, v-necks, and cardigans: we love the look and feel of a cashmere hoodie, as it's sleeker and less bulky than its fleece counterpart but just as cozy. Whether it's a zip-up hoodie or hoodie sweater, a hoodie is equally suitable for WFH life or for weekends out and about.
Yet, we realized that bottoms and cashmere are like peaches and cream. Cashmere pants, in particular, quietly revolutionized loungewear: the best cashmere joggers are just as comfortable as your 90s-inspired fleece sweats, but they offer a luxurious look and can make you feel both put-together without looking too prim. They're cozy, lightweight, and breathable, comfy around the house and stylish when running errands.  We made them in two styles: tapered, low-slung joggers (for men and women) for a more casual look, and cropped, high-waisted and wide-legged lounge pants (women only) for a more timeless, yet contemporary vibe.
In all, our recycled knitwear collection offers new and more contemporary styles that boast the same soft, insulating qualities as cashmere, but without the environmental impact associated with animal rearing. As we enter 2021, our ongoing commitment to luxury at cost is going to be further enriched by our increasing participation into circular fashion and economy.